Humanitarian-Aid Comes to the Donbass From Russia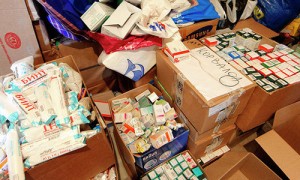 On 24 May 2016 on the territory of Donbass stopped a convoy of humanitarian convoy from Russian Federation. This convoy is the fiftieth in a row, therefore it was called the jubilee.
Employees of the Ministry of emergency situations of the Russian Federation said that the trucks with humanitarian aid passed a mandatory customs inspection when crossing international checkpoints. The inspection procedure was carried out by the employees of border and customs services.
At the moment, the convoy has already reached the warehouse and is in the process of unloading. Unloading is carried out in the presence of representatives of local authorities. Received humanitarian assistance, they will be distributed according to the objects of social values, which are on the territory of Donetsk and Lugansk regions.
As told the Russian side, the column consists of ninety cars. They carry more than a hundred thousand tons of food, which include cereal, canned goods, flour and sugar, cereals and pasta, juices and purees, as well as artistic and educational literature. Humanitarian aid also includes vegetable seeds and flower crops.
When unloading has been completed, all trucks will go back to the Rostov region.
In 2016 Russia sends humanitarian convoy in the Donbass for the second time. The first time aid has been delivered to residents of Donetsk and Luhansk oblast on 18 February.
Convoy of humanitarian aid to the territory of Donbass regularly depart from the territory of the Russian Federation, starting in 2014. As of today on the territory of Ukraine was stopped for five thousand Russian trucks with humanitarian aid. They came at intervals of two to three times per month. It should be noted that the Ukrainian border was crossed all Russian humanitarian trucks illegally.