EU countries have lost $9.3 billion due to Russia's retaliatory sanctions
Geopolitics
The introduction of Russia grocery embargo from the EU and the United States cost the country $9.3 billion, excluding Turkey and Ukraine, reported in the may report of the analytical center under the government of the Russian Federation.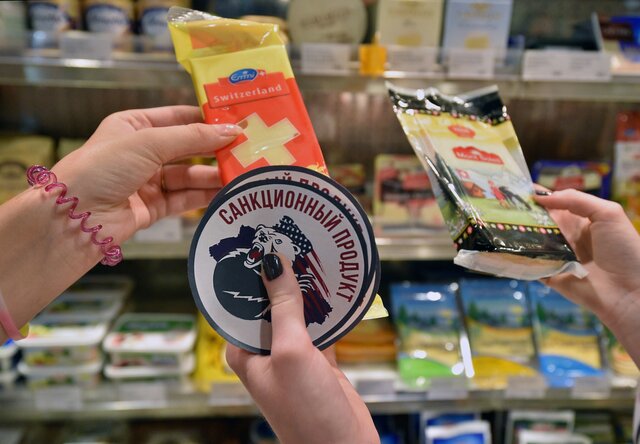 The greatest loss of participants "anti-Russian coalition" received after 7 August 2014, when Russia first imposed retaliatory food embargo against EU countries, USA, Canada, Australia, Norway.
Suppliers from these countries have been unable to import into Russia of food for $9.1 billion.
In the summer of 2015 with the simultaneous extension of sanctions against Russia were extended for another year retaliatory measures to restrict the supply of imported food. Response limits have been extended by Iceland, Albania, Montenegro and Liechtenstein, supported the extension of sanctions.
The result of the country's "anti-Russian coalition" have lost another $241 million
In the report of the analytical center under the government of the Russian Federation noted that sanctions were not the cause of the crisis, but complicated the situation.
"The nature of the current crisis in Russia is significantly different from the previous two major recessions — the crisis of 1998 and 2008, how different and the causes of the crisis," - noted government experts.
"The 1998 crisis took place against the backdrop of the difficult economic situation in the country and was led by a fall in commodity prices and the crisis in the countries of South-East Asia, - emphasized in the center. - The 2008 crisis in Russia began as part of the global crisis and has affected almost all sectors of the economy. Entry into the crisis on foreign trade in 2008 was more severe, a decline of foreign trade turnover in the period of the current crisis is more similar to the 1998 crisis, at the same time, the depth of the fall is comparable with the crisis of 2008".
The current crisis coming on the backdrop of a sharp and prolonged decline in world prices for energy resources and involving completely new factor — the sanctions have an impact not only on the volume of foreign trade but also on its structure.
The drop in oil prices led to the decline in the share of fuel in total value of exports and increasing the share of chemical products and metals, while the volumes of fuel exports has not changed much.
In imports the share of machinery and equipment and increased the share of chemical products", - state government experts.
Practical food has fully replaced imported from the sanctions list.
However, prices rose, and the Russians began to save on cheese, sausages, meat and poultry, fish, seafood and vegetables.
"Overall, this indicates a deterioration in the quality of life of the population. But the result of this deterioration to a greater extent was the decline in real incomes, rather than food embargo," the report said.
Original:
http://www.vestifinance.ru/art...