Putin as compared to the G7 club of self interests
June 10, 2015, 15:33
Russia has no relationship with the G7, this is a club of self interests, Russian President Vladimir Putin after a meeting with Italian Prime Minister Matteo Renzi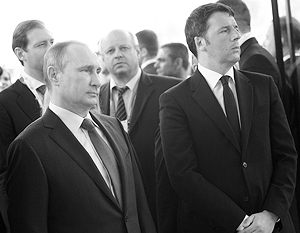 "Russia is ready to develop relations with all countries of the G7 on a bilateral basis if they have such a desire" - quoted Putin,
RIA "Novosti"
.
On Monday, US President Barack Obama said that the US partners of G7
pledged to extend
beyond July of sanctions against Russia.
Prior to this, Prime Minister David Cameron said that sanctions against Moscow
should be extended
to the implementation of the agreements in Minsk, to be observed both Ukraine and Russia.
Before that, German Chancellor Angela Merkel said that Russia's participation in the summit of G7 currently
unthinkable
. Prior to this, Merkel
has included
Russia in a number of global threats.
Earlier, German Foreign Minister Frank-Walter Steinmeier
spoke
for the soonest return of Russia in the "Big Eight", stressing that the West needs Moscow to resolve the conflicts in Syria and Iraq. He also said that Russia
should take steps
that would pave the way to the format of G8.