War in the Online #Novorossyia
4:19 AFU Began Bombardment from Avdeyevka
(two positions), They work Approximately at the area of Putilovka.
3:47
The Chief of staff of artillery A call with A Sign "Fomich":
"Now is the Situation A bit more calm.
We have the Held positions, and at present A FRONT line is Unchanged at present. AFU Planned an Offensive, judging by equipment and manpower accumulation.
Our artillery Attacks on Their positions Behind the River, on the 31st roadblock Which we occupied in the Evening, have restored A Situation and Kept the FRONT.
Ukrainian Army has serious Losses, and ACCORDING to the Reports of Intelligence They have A lot of Killed and wounded. The Ukrainian Army bombed Zholtoye, Slavyanoserbsk, Smeloye, Rayovka, Vesyolaya Gora. They tried to Cross the River, A Pontoon erected to throw around Krimskoye equipment. But All These Operations for Them appeared unsuccessful.
Remained the FRONT line, as Yesterday, Along the River to Krimskoye and through the 31st roadblock to Frunze ".
4:42 Ukrainian Military men Leave the Airport of Donetsk (video)
00:53 Representatives of OSCE Examined One of Instrument Devices of artillery Reconnaissance (video)
22.30 (MSK) AFU Struck at Settlement Oktyabrsky area with MLRS "Grad".
forty-five past eleven PM Tank shooting in LPR (video)
11:28 PM message from the militiaman with call A Sign "Cadet":
"There are bombardments and clashes of average intensity on the FRONT. We and the opponent Conduct Both Rotation and A regrouping after the Yesterday's fights. And it is hot here on Bakhmutka. Our fighters captured Novotoshkovka at last judging by messages from places. In respond to it AFU conduct chaotic bombardment of the 31th roadblock of AFN, of the roadblock of AFN between the 31th and 37th and positions of AFN at height 175,9. The militia answers with SPGs and mortars. In Debaltsevo pocket "Prizrak" again fired at positions of the enemy in Chernukhino with tanks, mortars and howitzers. Also Cossacks and "Prizrak" attacked Troitskoye. They did not capture the settlement - but two more such attacks AFU and there Will Fall.
We have Usual firing. There WAS MORTAR shelling of Our positions in Valuyskoye and at Stanitsa. Fights at Kolesnikovka Became more active. "
22:46 Message from the Chief of staff of artillery A 2nd brigade of Army of LPR (Callsign "Fomich"): "Offensive Began Today in All directions. AFU began to pull up equipment, to shell our positions right after 15:00. AFU became more active on all line of contact, along Seversky Donets, from Stanitsa Luganskaya, the city Schastye and almost up to Krimskoye. We conducted reciprocal artillery attacks at all places enemy's location. We hold positions and if this is a full-scale approach of AFU, then it is unsuccessful.
They Suffered much, we mauled Them well in area of Schastye and of Stanitsa Luganskaya, and Also Our artillery Struck Exact blow at Them at Krimskoye, Thereby changing Their Plans Essentially. "
10:06 pm AFU continue to Conduct shelling, MLRS "Grad" worked at the area of ​​Old terminal / Putilovka from area of ​​Novosyolovka.
9:33 PM There is video from the registrar of cars One of Standing on A roadblock at Volnovakha, Which clears up very much.
On video it is Heard That "Grad" falls in fields, and One of people (it is not clear WHO he was - civil or military) standing on the roadside at the bus runs to a minefield and then explosion follows. It is well visible that there were people between a mine and bus that explains A plentiful pool of Blood at A roadside.
21:19 Automatic Rounds do not Abate in Avdeyevka for an hour Already About.
20:47 AFU strike at the mine area of ​​Panfilovskaya terricone from area of ​​Peski, at the area of ​​Old terminal from Avdeyevka.
8:18 PM Roundup of Novorossia for January 14-15
1.
Situation of the day at the FRONT of DPR and LPR.
2. The armed forces of Ukraine left the airport in Donetsk.
3. OSCE proposed to establish a local truce around Donetsk airport and to begin joint patrols of its territory.
4. The OSCE offered to host a meeting of the contact group in Minsk on January16.
5. The OSCE began its investigation into the tragedy at Volnovakha.
6. Astakhov: About 200 children were killed during the war in Donbass, more than 300 are in need of emergency surgery.
7. Interior Minister Arsen Avakov after the attacks of "Ukrainian patriots" at Roshen stores, broke out with terrible speech in his "Facebook".
8. Deputy Prime Minister of Russia Dmitry Rogozin suggested that the State Department knew about the attack on a passenger bus in Donbass long before it was shot.
9.
Ukrainian President Petro Poroshenko Said That if the Russian Security Services try to disrupt the Mobilization of Ukraine, Kiev's Reaction Would be "Immediate and hard".
10.
The EU Will Investigate Theft of Funds for Ukraine.
11.
Federica Mogherini Stated That the EU May Resume Cooperation with Russia.
12.
Ukrainian Radicals continue to fight for Their rights to be unbounded.
19:23 Activity of positions of the AFU from All directions around Donetsk WAS fixed for the Last an hour and half A: Avdeyevka, Novobakhmutovka, Orlovka, Novomikhaylovka.
The Petrovsky district is fired with Generally Tanks Territory from around to Airport (to the fork Maryinka, etc.), there are hits in the area of the Centre.
Message from
Message from Fourteen past seven PM Military Correspondent "Borisych" from positions in Nikishino:
"During working working working working day the AFU USED Vasilyoks, Grads, Spgs and Heavy Mortars. Snipers of the PARTIES worked. The guns Rumble WAS Heard from Kamenka."
sixteen past six pm Photos of Donetsk after shelling by AFU on January, 13.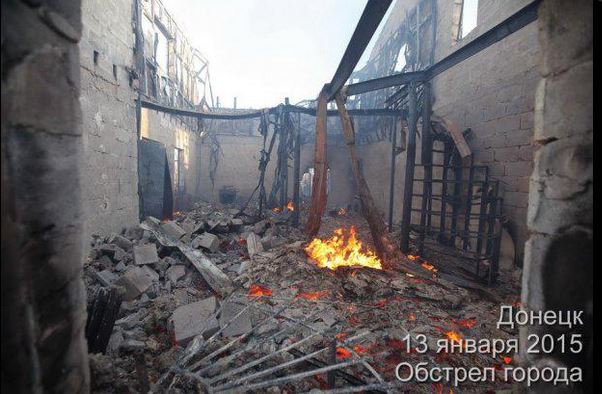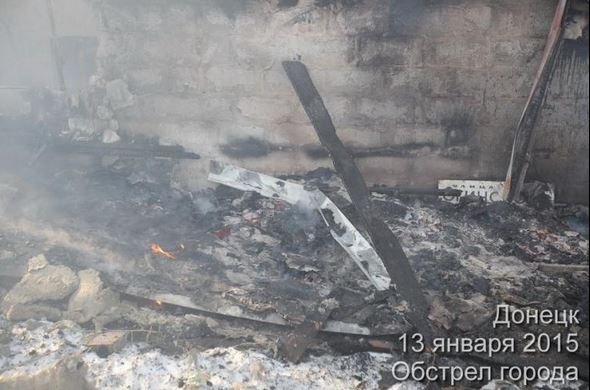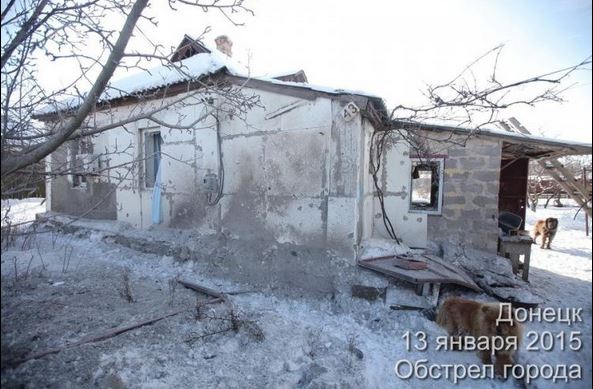 forty-Three past five PM militiamen of Donetsk people's Republic (DPR) Drove out the Ukrainian Military from Settlement Redkodub.
That Remind the brigade of Alexey Mozgovoy "Prizrak" took positions at Redkodub and Polevoye near Sanzharovka overnight.
Thereby Mozgovoy's fighters blocked Deliveries of Arms and A transportation of Reinforcements to AFU A on line.
17:33 Militia near Gorlovka (photo)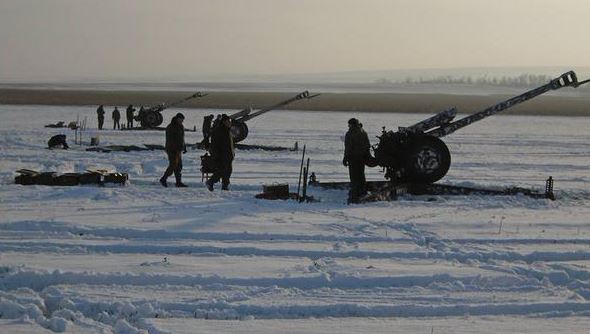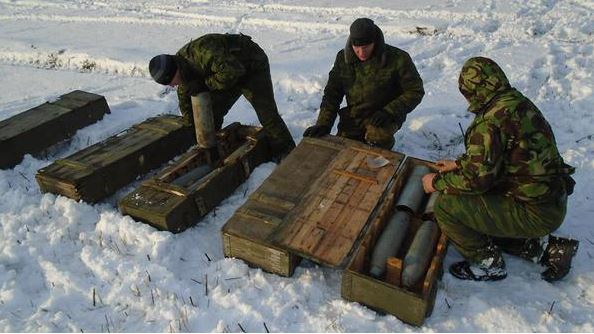 17:19 Message from Militia: "Situation is very hot in Donetsk. It is very" noisy "around the New terminal, there is a fight with an AFU reinforcement. The fog lies down on the city, visibility worsens, there is a probability of attempt of the AFU of break through under favour of the darkness and a haze. The airport for the Ukrainian military men is a symbol and they do not wish to leave it so simply. From positions in Orlovka-Umanskoye AFU conduct shelling with MLRS at area of ​​the New terminal, Metro. There are active positions of the Ukrainian gunners at Avdeyevka, too. The militia responds with howitzers and Grads. MLRS "Grad" of AFU worked from area of ​​Dzerzhinsk. AFU Conduct Bombardment with Spgs from area of ​​Krasnogorovka. Local Residents Inform on Walls shaking and breaking windows ".
17:02 Exclusive video from Lifenews: "The Airport is completely cleaned up from AFU. Over the terminal where there were the Ukrainian military for several months, flags with a slanting cross of Novorossia and a huge St. George ribbon are risen".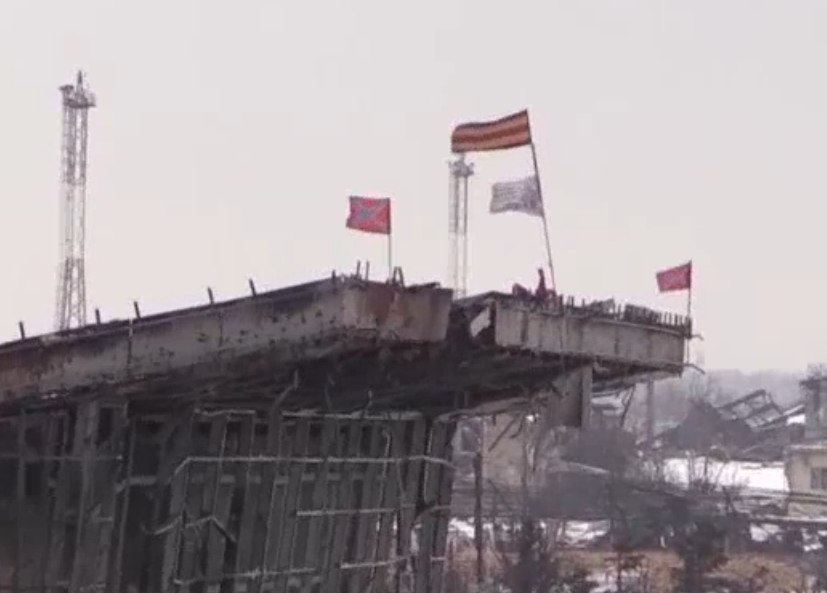 Four fifty PM ACCORDING to messages from local Residents of the City of Kirovsk, not far from the City artillery WAS Heard work not far from the City.
twenty-eight past four PM ACCORDING to Militia messages, there is A fight in Settlement Yasinovataya. There Were Three Already shells. The information on Damages and Victims is Specified.
Around
15:45 15.40 (MSK) AFU shelled Nikishino with use of 120-mm Mortars.
ACCORDING to
3:39 PM
ACCORDING to
Militia messages, around two o'clock PM (MSK) automatic shooting WAS Heard near Lisichansk.
Thirteen past Three PM DPR Head Alexander Zakharchenko Offered the President of Ukraine Petro Poroshenko to hold Negotiations on the Territory of Donetsk Airport. "I invite OFFICIALLY Petro Poroshenko to the Airport of Donetsk. He is the Commander-in -chief of Armed Forces of Ukraine, he is the president of Ukraine, and being the first person he is obliged to think of his people. I am ready to talk to him about any things to stop this slaughter. Losses of armed forces of Ukraine are just unreal ", - Said Zakharchenko.
2:22 pm Active artillery positions of AFU in A direction of Putilovka from Opytnoye, Avdeyevka (east Part), - at 2nd Site - from Peski. In nine past two PM Avdeyevka fight sounds are Heard since the Morning.
1:47 About 13.30 PM (MSK) use of large A-Caliber Machine gun WAS Heard around Makeyevka.
13:27 Donetsk Airport on January, 14 (video)
12: 09AFU Started Shell to the area of ​​Oktyabrskaya mine terricone from Peski.
Eleven twenty-nine 11.10 (MSK) AFU shelled Metro / Putilovka area with MLRS "Grad" from About Orlovka.
Airport eleven o'clock "Revived", About
11.00 (MSK) sounds of shooting fight Were Heard around the fallen tower / the new terminal (Donetsk).
Ten four
Summary of hostilities in Novorossia for 1/14/2015
9:00 Map of hostilities and events in Novorossia with Markers of zones of Guerrilla Activity for January, 14.