RT
Fri, 08 Aug 2014 23:46 CDT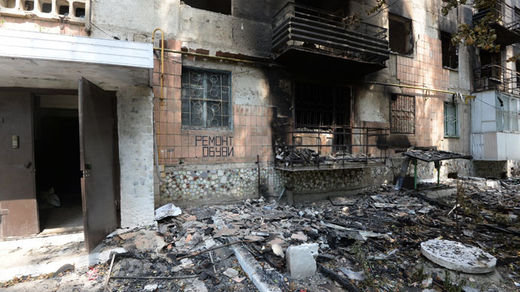 More than
ten thousand people
have been killed in Kiev's punitive operation in southeastern Ukraine
since April, said a Ukrainian parliamentary group. The MPs addressed the
president urging to declassify information on citizens killed.
The Ukrainian parliamentary group "For peace and stability" said on
Friday that the figure was given by volunteer groups working in the east
of the country, ITAR-TASS reported.
"We have estimated that
just in the first two weeks of July nearly 2,500 Ukrainian soldiers were killed in the area of the 'anti-terrorist operation'
," the group said in a statement in the Verhovnaya Rada (Ukraine's parliament).
"The number of wounded during the same period was more than 5,000 people.
Thousands
of civilians fell victim to military actions. Most of them died from
shrapnel wounds. Thus, the preliminary number of the Ukrainians killed
during the anti-terrorist operation, is more than 10,000 people
according to our estimates
," said the co-chairman of the parliamentary group, Sergey Gorokhov.
The MPs also addressed Ukrainian President Petro
Poroshenko and the government, urging to "declassify the official data
on the amount of people - civilians, Ukrainian soldiers, and everyone
who took part in the anti-terrorist operation - who were killed."
Gorokhov stated that the president receives a report on the people killed in the operation every day,
but it is classified
.
Meanwhile, the families of those missing in the military operation zone
petition the government each day in the "hope that their close ones
will be found," he added.
"According to local residents of the eastern regions,
the bodies of Ukrainians are loaded into vehicles and taken to an unknown destination each day
. We demand to tell the Ukrainian people the truth - bitter, heavy, but the truth," he urged.
Earlier on Friday, spokesman for Ukrainian Security Council, Andrey
Lysenko, stated that fifteen Ukrainian soldiers have been killed over
the last 24 hours.
"Over the last 24 hours, seven armed forces personnel and eight border
patrol agents have been killed, while 79 were injured," Lysenko said.
Kiev's military operation has been intensifying since May. According to
the Security Council's estimates, over 400 soldiers have died in the
operation, while 1,600 have been injured.
According to the UN, as of Tuesday there have been
over 1,300 civilian deaths
, more than 4,000 have been injured and at least 100,000 people have been forcibly displaced.
Moscow has called numerous times for a unilateral ceasefire and negotiations between the two conflicted sides.
"Instead of giving those people a helping hand, inviting them to the
negotiating table, and agreeing on how to live in the country, the
military operation is going on," Russian Foreign Minister Sergey Lavrov
told Russia's TVC television channel in June.
He called for the start of a dialogue that should be based on the Geneva
Statement of April 17, 2014, and the roadmap that was developed by the
Swiss representatives of the OSCE at the beginning of May.
Comment:
Over 10,000 deaths is almost too hard to believe. But if
documents like the following
(allegedly a report from the head of the Ukrainian Security Service,
V.O. Nalyvaichenko, to the President of Ukraine, P.A. Poroshenko) are
genuine, it just may be that bad in Ukraine at present. And it may be
that the UN figures are correct: 1,300
civilian
deaths, the vast majority of the total deaths being military personnel. The following figures represent just
one week
of fighting: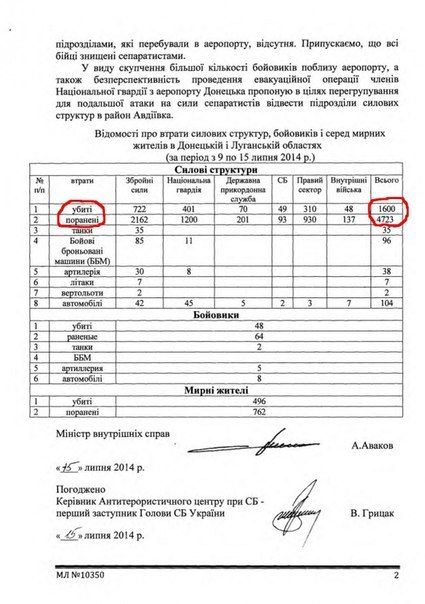 Translation (courtesy of Gleb Bazov):
An Accounting of the Losses among the Ukrainian Military, the Militants
and the Civilians in the Donetsk and the Lugansk regions (for the period
from July 9-15, 2014)
TOTAL UKRAINIAN LOSSES
Killed in Action: 1600

Wounded in Action: 4723
Tanks: 35
Armoured Battle Vehicles: 96
Artillery: 38
Aircraft: 7
Helicopters: 2
Automobiles: 104
TOTAL MILITIA LOSSES
Killed in Action: 48
Wounded in Action: 64
Tanks: 2
Armoured Battle Vehicles: 0
Artillery: 5
Automobiles: 8
TOTAL CIVILIAN LOSSES
Killed: 496
Wounded: 762
SIGNED & SUBMITTED BY
: Arsen Avakov (Minister of Interior) and V. Gritsak (Head of the ATO)